Integrin Signaling in Physiology and Disease
A Symposium and Faculty Workshop Sponsored by Mizzou Advantage Network One Health, One Medicine
| | | |
| --- | --- | --- |
| Confirmed Keynote Speakers: |   | Keith Burridge (UNC), |
| |   | Michael Sheetz (Columbia), |
| |   | Valerie Weaver (UCSF) |
Symposium, 17 - 18th
Faculty Workshop, 19th

     Integrins are cell surface receptors that participate in diverse biologic processes and control key cellular functions including adhesion, motility, survival, and mechanotransduction. Integrins and their associated signaling pathways have been linked to a variety of diseases and pathologies, and are significant therapeutic targets.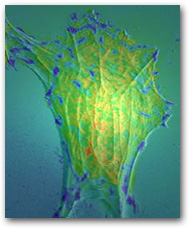 To stimulate cross-disciplinary interaction a regional symposium and faculty workshop on Integrin Signaling in Physiology and Disease will be held to bring together scientific leaders, both external and internal to MU. The aim is to review progress and identify challenges facing the field and to provide a forum for intensive interactions with the campus research community.
     Organized by Anand Chandrasekhar (Biological Sciences), Michael Hill (Medical Pharmacology and Physiology), James Lee (Biological Engineering), Gerald Meininger (Medical Pharmacology and Physiology), Sharon Stack (Pathology and Anatomical Sciences), and Gary Weisman (Biochemistry).
     The Symposium and Faculty Workshop are sponsored by the Mizzou Advantage One Health, One Medicine Initiative from the MU Office of the Provost. Additional support provided by the Bond Life Sciences Center and the Dalton Cardiovascular Research Center, and the Departments of Biochemistry, Biological Engineering, Biological Sciences, Molecular Physiology and Pharmacology, and Pathology and Anatomical Sciences.